Life with Livie
Our beautiful baby, Olivia Ryann, was born full-term on May 30, 2015, weighing a hefty 8lb 12oz.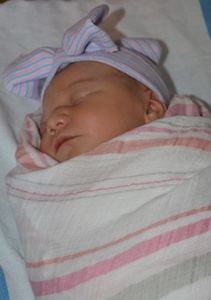 She passed all her newborn screening tests and we took home our new bundle of joy after 2 nights in the hospital. Her grandma stayed with us for a week, helping to get us acclimated to our new lives as parents. For the most part, Olivia was a pretty easy baby- she slept well, ate well and rarely cried, but still as first time parents, we spent hours agonizing over the "hard" decisions. What size diaper should we use? Should she be strictly breastfed or was it okay to supplement formula? What type of bottle/nipple should we use? Should she sleep in her bassinet or the swing she loved so much? How were we possibly going to find the time to put her in all the newborn outfits we had already washed in anticipation of her arrival when she was already almost outgrowing them?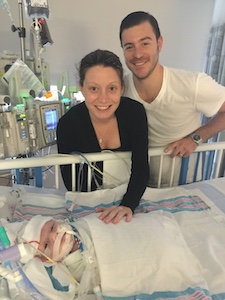 Olivia was only home with us for 10 short days when a routine pediatrician appointment prompted a chest x-ray, as her breathing seemed a bit labored. After watching our sweet, innocent baby undergo hours of testing in the Emergency Room, she was ultimately diagnosed with a heart defect called a PDA that needed immediate repair. Two days later, as we sat there in shock and fear, she was wheeled into open-heart surgery. Everything was quickly put into perspective as we sat in the family lounge awaiting updates from the surgeon. Just days ago, we were worrying about what type of lotion to use on her after a bath and now she was in the operating room undergoing a major surgery.
Thankfully, after about 5 agonizing hours of waiting,
the surgeon came out to tell us everything went well and and her heart was fully repaired. Our tears quickly changed from anguish to hope as we ran into her room to see her and we thought for sure the worst was behind us! Even though the recovery for this type of surgery can be long, we were confident everything was going to work out, and this would just be a small bump in the road to a long, happy and healthy life for our baby. Seeing her after surgery was both a relief and excruciating as she was hooked up to tons of machines and was completely sedated. In the days and weeks that followed in the hospital, Olivia began having uncommon post-operative complications including pulmonary hypertension, dilated pupils, seizures and abnormalities on her brain scans. We had many scary days and nights, as her recovery proved to be much more difficult than the surgery itself, however none of the doctors could explain why this was occurring. She was on a ventilator and kept sedated for 5 weeks before we were even able to hold her again.
When she ultimately was discharged from the hospital after 6 weeks, she was sent home on a feeding tube and we were left wondering whether our little girl would ever be able to eat, walk, or talk, as no one had any idea whether any permanent, long-term damage was done. In the weeks and months that followed, Olivia defied all the odds. Her feeding tube was taken out, she was able to be weaned off of almost all of her medications, and she was getting stronger and stronger each day. Her weekly physical therapy sessions, combined with her strength and determination enabled her to achieve all of her milestones timely. Despite the need to still be monitored extremely closely and attend many doctors' appointments, Olivia was thriving and we couldn't have been more grateful.
Around the time of Olivia's first birthday, a few of her prior medical issues started reemerging. Any time she would get a cold, she would require supplemental oxygen and breathing support until her lungs were able to recover and her seizures came back in the form of "staring spells" in which she would hold her breath. At this point, we decided to pursue genetic testing and in August of 2016, Olivia was diagnosed with Smooth Muscle Dysfunction Syndrome ("SMDS"). This is an extremely rare genetic mutation in the ACTA2 gene that can lead to aortic and cerebrovascular disease, patent ductus arteriosus, fixed dilated pupils, hypotonic bladder,
malrotation of the gut, and pulmonary hypertension. We finally had our answer as to what was causing all of these unusual symptoms she was having, however because the disease is so rare, there was very little known about management and virtually no treatment options.
Despite being dealt this difficult hand, Olivia acted exactly as any child her age would. She
went to music classes, played in the park, came with us on vacations, and truly lived her life to the fullest each day. She loved horses, or "neigh neighs" as she would call them, the beast from "Beauty and the Beast", FaceTiming with Rah-Rah, Pop-Pop, Aunt Kat and Uncle Mike and playing in her kitchen and with her ABC puzzle. She loved going to her sensory gym for physical therapy and speech therapy each day and always pushed herself to the limit- she could rival any 5 year old with her amazing ability to climb the rock wall! She loved playing on the iPad and even learned my passcode to unlock it herself so she could take selfies and watch her favorite YouTube vidoes. She couldn't wait for bath time every night and would always insist on picking out her own pajamas. She loved eating macaroni and cheese, broccoli, creamed spinach, burgers, and of course grandma's pasta and meatballs. Olivia would do just about anything for a chocolate chip cookie but was also always willing to share. She would wave and say hi to everyone she passed on the street, was constantly laughing and had the most contagious smile.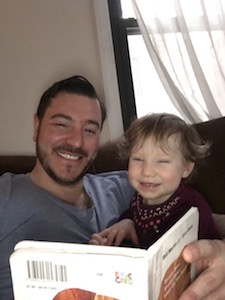 Olivia fought through everything that came her way and always did it with a smile on her face. She spent about 4 months of her life in and out of the hospital (mainly due to respiratory viruses), but was always the girl dancing in her crib to Rachel Platten, Taylor Swift or Meghan Trainor, playing with her favorite toys, waving goodbye to the nurses, and brightening up everyone's day with her amazing spirit. In fact, most people had a hard time believing how "sick" she actually was because she never behaved any differently. Her anthem became "Fight Song" and to this day, we can't listen to it without crying.
On April 15, 2017, Olivia caught another virus and was admitted back to the hospital. Unfortunately, this time her lungs were never able to fully recover, and sadly after 12 days of trying various medications and interventions, we had to say goodbye to our angel. She was surrounded by everyone who loved her most and we were all able to give her plenty of hugs and kisses. Although her passing was unexpected, it was clear her body was growing weaker and more tired than we could see on the outside because she was trying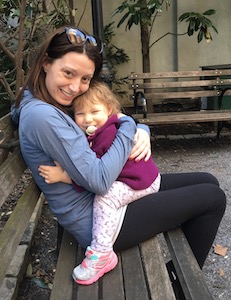 to protect us. In fact, the morning of the day she passed away, in true Olivia fashion, she woke up and immediately popped up in her crib and said "Mama, booty shake!!!"
Our little fighter was shaking her booty up until her last moments and there is not a second, minute or hour of any day that will ever go by for as long as we live that our hearts will not ache from the emptiness of not seeing her everyday. Whether it be watching her wake up in the morning with the biggest smile on her face, having daily phone conversations with her while we were at work, being greeted at the door everytime we came home to her yelling MAMA or DAD-O, listening to her recite the ABCs over and over again (including in her sleep), watching her chase Jake around the apartment, or laying in bed with her every single night singing the itsy-bitsy spider, wheels on the bus, or row row row your boat before she fell asleep next to us.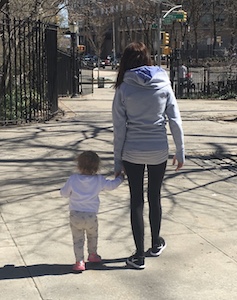 Olivia showed us how to love in a way we never we knew possible, strength that we never knew existed and perseverance only few people in this world are blessed with. She touched more people in her short life than many will ever do and we are honored to be her parents.
Olivia is now free from a life of doctors, hospitals, IVs, x-rays, oxygen, tubes, monitors and medications. Her fight is over, but ours is not. As soon as she received this diagnosis, we made it our mission to raise awareness about this devastating disease and fund research projects in the hopes of educating physicians with best management practices and ultimately finding treatment options. As her parents, we will not stop fighting until this is achieved and we hope you will join us in our mission. Please visit the Livie's Legacy tab to learn how you can help.
For more information about this disease as well as to learn about ongoing research projects, please visit the Learn from Livie tab.