Learn from Livie
About SMDS
Smooth Muscle Dysfunction Syndrome (SMDS) is a disease that affects all the
organs in the body that depend on smooth muscle cells for proper function. SMDS is rare, but has a very high risk of early death when present. The disease is caused by changes in a gene that is critical specifically in vascular smooth muscle cells – specialized smooth muscle cells that lines blood vessels. This gene, ACTA2, causes SMDS when the genetic code for one of the amino acids in the ACTA2 protein, the arginine at position 179, is changed to another amino acid.
The major, life-threatening complications of SMDS include thoracic aortic dissection and rupture, stroke, and lung disease. Because SMDS is rare and was only discovered a few years ago by Dr. Dianna Milewicz and her team at the John Ritter Research Program, there is a lack of information on how the disease develops and how to care for patients. To date, there are no effective treatments. Shortly after Livie's diagnosis of SMDS, Love for Livie was established to help change this.
Previous Research funded by Love for Livie
Clinical Management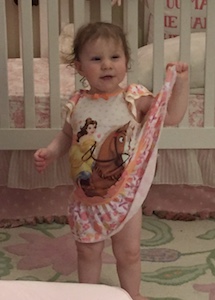 In 2018, Dr. Milewicz and her team of international collaborators published the first and to date only management guidelines for SMDS, using clinical data collected from patients across the world. This publication, "Clinical History and Management Recommendations of the Smooth Muscle Dysfunction Syndrome Due to ACTA2 Arginine 179 Alterations", remains the foundational tool used by physicians for treating and caring for patients with SMDS.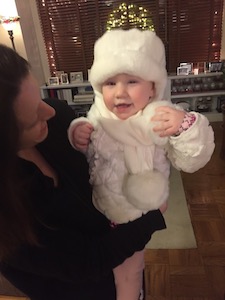 Mouse Model
To better understand the molecular defects that cause complications in patients and to test potential therapies it was vital to study SMDS in a mouse model. This was a project that had been in the pipeline for quite some time but unfortunately efforts had been unsuccessful due to lack of funding. This is where Love for Livie has stepped in and provided all resources necessary for this project. We are proud to report that the complex genetic engineering for a mouse model of SMDS is complete. These mice have their DNA engineered so that the mutation can be turned on in specific tissues and at specific times.
Stem Cells
Dr. Milewicz and her team used specialized cells from three individuals with an ACTA2 R179 (SMDS) mutation to create what are called 'induced pluripotent stem cells' (iPSCs). This allowed them to understand why this specific mutation leads to such severe illness. In SMDS, the stem cells that should become the cells lining the walls of arteries, known as smooth muscle cells, don't transform as they should. Instead, they keep their characteristics as stem cells. This can block arteries and potentially lead to strokes. Their research findings will be published in the major cardiovascular research journal, Nature Cardiovascular Research, in the first week of October. Funding of this research by Love for Livie yielded data that subsequently helped secure a substantial grant from the American Heart Association (AHA). Findings from this AHA grant have the potential to improve the prevention and treatment of strokes across all age groups.
Current Research funded by Love for Livie
Clinical Trial
We are excited to share that the initial phase of a clinical trial involving nicotinamide riboside (NR) for SMDS is underway. This drug has the potential to be the first treatment for SMDS. Previous studies in an SMDS mouse model have indicated that NR can prevent severe strokes, and the research paper describing these findings is currently awaiting review.
Love for Livie is proud to contribute to the funding of this trial, which includes PET/CT and echocardiogram imaging, blood work, and travel to Houston for the patient and a guardian.
Application to other conditions
Moyamoya disease is a common cause of strokes in children, and most of these children do not have SMDS. Dr. Milewicz's team has found similar defects in SMCs from patients with Moyamoya disease due to other causes. Therefore, the treatments that work for SMDS patients will be used for clinical trials in other patients. The International Pediatric Stroke Consortium will be running these clinical trials, and a manuscript is currently in preparation.
Next, the lung disease in SMDS
The John Ritter Research Program and Dr. Milewicz are collaborating with a group at Northwestern with expertise in lung disease to investigate the pulmonary disease in SMDS. They hope to understand how and why the lungs are affected and what therapies may alleviate these complications.
How You Can Help
Each year, Livie's family and the John Ritter Foundation for Aortic Health, a 501c3, team up to host a Benefit in NYC to raise money for ongoing research projects, advocacy & education. Please visit the Livie's Legacy tab to support our mission!
Click here to see photos from prior events!
Watch below to hear Dr. Milewicz's TEDx talk where she talks about children like Livie