Learn from Livie
Multisystemic Smooth Muscle Dysfunction Syndrome (MSMDS) is a disease that affects all the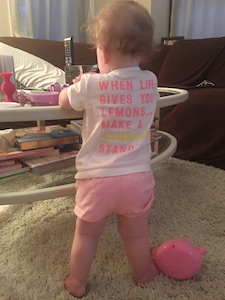 organs in the body that depend on smooth muscle cells for proper function. MSMDS is rare, but has a very high risk of early death when present. The disease is caused by changes in a gene that is critical specifically in vascular smooth muscle cells (a special type of smooth muscle cell that lines blood vessels). This gene, ACTA2, causes MSMDS when the genetic code for one of the amino acids in the ACTA2 protein, arginine at position 179 (p.Arg179) causes a change to another amino acid.
MSMDS can cause fixed dilated pupils, patent ductus arteriosus, bulging (aneurysms) of the aorta and other arteries, blockage of arteries in the brain and lung, and abnormal intestines and bladder. Since this is a rare condition that was identified a few years ago by Dr. Dianna Milewicz, the Director of the John Ritter Research Program, and her colleagues, the medical community lacks much needed information on how the disease progresses and how to provide proper medical care for patients with this condition. There are no successful treatments available at this time.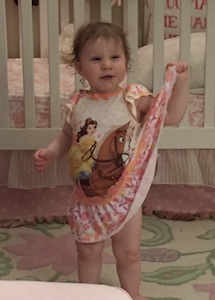 Dr. Milewicz and her research group are working to define gene and mutation based precision medical care and treatment for those with MSMDS. Dr. Milewicz has brought together a worldwide consortium of experts in aortic and vascular diseases in the Montalcino Aortic Consortium (MAC) and started the process of collecting information from patients worldwide. The patients will be followed over several years and information collected on their health status and treatment to create medical guidelines for the best medical care for patients with MSMDS. The patients will also be provided information on any clinical trials that become available. Recently, using the data collected thus far from patients, The John Ritter Research Program held an informational webinar entitled, "Clinical History and Recommendations for Medical Management of Individuals with ACTA2 arginine 179 alterations" for people currently impacted by the disease and their medical team, which was a huge step in raising awareness.
To get to the point of defining the precise molecular defects that cause complications in patients, and to test therapies that would help with these complications, it is very important to study MSMDS in a mouse model of a disease specific change in ACTA2. This would allow the research team to examine the disease process in great detail, and to start testing therapies for the disease that could be applied to patients in the future. We are on a mission to ensure that this important resource (a mouse model of disease) is made and studied to help other children and families impacted by MSMDS. The estimated initial cost of materials and personnel for this project is close to $200,000. Almost $50,000 was donated to the Olivia Petrera-Cohen research fund at UTHealth over the past year. This helped Dr. Milewicz's group to initiate the process of obtaining a mouse line with the R179H alteration in ACTA2. This line will be available for analysis towards the end of 2017. It's our hope to generate the remainder of the funds for this project in Livie's memory this year and continue funding research projects thereafter. This will enable Dr. Milewicz's group to test the effectiveness of various treatment options, further educate the entire medical community on this rare condition and thus have Livie's legacy live on in improved health for all those with MSMDS. Please visit the Livie's Legacy tab to learn how you can help us achieve this mission.
Watch below to hear Dr. Milewicz's TEDx talk where she talks about children like Livie